Mal 4:5
Behold, I will send you Elijah the prophet before the coming of the great and dreadful day of the LORD:
(KJV)

Matt 17:12-13
But I say unto you, That Elias (Elijah) is come already, and they knew him not, but have done unto him whatsoever they listed. Likewise shall also the Son of man suffer of them.
Then the disciples understood that he spake unto them of John the Baptist.
(KJV)
---
Matt 6:22
The light of the body is the eye: if therefore thine eye be single, thy whole body shall be full of light.
(KJV)
Matt 6:33
But seek ye first the kingdom of God, and his righteousness; and all these things shall be added unto you.
(KJV)
Matt 7:1
Judge not, that ye be not judged.
(KJV)
Matt 13:12
For whosoever hath, to him shall be given, and he shall have more abundance: but whosoever hath not, from him shall be taken away even that he hath.
(KJV)
Matt 22:37-39
Jesus said unto him, Thou shalt love the Lord thy God with all thy heart, and with all thy soul, and with all thy mind.
This is the first and great commandment.
And the second is like unto it, Thou shalt love thy neighbour as thyself.
(KJV)

Matt 26:52
Then said Jesus unto him, Put up again thy sword into his place: for all they that take the sword shall perish with the sword.
(KJV)
---
Luke 9:48
And said unto them, Whosoever shall receive this child in my name receiveth me: and whosoever shall receive me receiveth him that sent me: for he that is least among you all, the same shall be great.
(KJV)
Luke 17:21
Neither shall they say, Lo here! or, lo there! for, behold, the kingdom of God is within you.
(KJV)
---
John 3:14
And as Moses lifted up the serpent in the wilderness, even so must the Son of man be lifted up:
(KJV)
John 10:30
I and my Father are one.
(KJV)
John 10:34
Jesus answered them, Is it not written in your law, I said, Ye are gods?
(KJV)
John 14:6
Jesus saith unto him, I am the way, the truth, and the life: no man cometh unto the Father, but by me.
(KJV)
John 14:16
And I will pray the Father, and he shall give you another Comforter, that he may abide with you for ever;
(KJV)
John 14:26
But the Comforter, which is the Holy Ghost, whom the Father will send in my name, he shall teach you all things, and bring all things to your remembrance, whatsoever I have said unto you.
(KJV)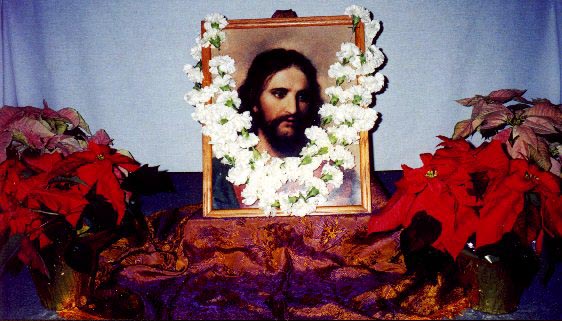 ---

The Book of Revelation is St. John's profound experience in Cosmic Consciousness. This meditation is open to all sincere seekers of God. The book is unfortunately used today, by many, as a justification for teaching sectarianism and even paranoia about world events. If you feel fear or uncertainty about the world around you, remember Jesus' teaching to seek the kingdom of God first. Do not be lead by others to hoard food and guns in your basement as a means to God union. God is advancing this world. Advance with it by concentrating on the best aspects of your religious practice; that is self-discovery of your true nature as the soul in relationship with God.
---

Rev 1:10
I was in the Spirit on the Lord's day, and heard behind me a great voice, as of a trumpet,
(KJV)

Rev 1:12
And I turned to see the voice that spake with me. And being turned, I saw seven golden candlesticks;
(KJV)

Rev 1:16
And he had in his right hand seven stars: and out of his mouth went a sharp two-edged sword: and his countenance was as the sun shineth in his strength.
(KJV)

Rev 1:20
The mystery of the seven stars which thou sawest in my right hand, and the seven golden candlesticks. The seven stars are the angels of the seven churches: and the seven candlesticks which thou sawest are the seven churches.
(KJV)

Rev 3:12
Him that overcometh will I make a pillar in the temple of my God, and he shall go no more out: and I will write upon him the name of my God, and the name of the city of my God, which is new Jerusalem, which cometh down out of heaven from my God: and I will write upon him my new name.
(KJV)

Rev 3:20-21
Behold, I stand at the door, and knock: if any man hear my voice, and open the door, I will come in to him, and will sup with him, and he with me.
To him that overcometh will I grant to sit with me in my throne, even as I also overcame, and am set down with my Father in his throne.
(KJV)

Rev 14:2
And I heard a voice from heaven, as the voice of many waters, and as the voice of a great thunder: and I heard the voice of harpers harping with their harps:
(KJV)

Rev 22:4-5
And they shall see his face; and his name shall be in their foreheads.
And there shall be no night there; and they need no candle, neither light of the sun; for the Lord God giveth them light:
and they shall reign for ever and ever.
(KJV)
---

An analysis of The Revelation of Saint John in parallel with the Yoga Sutras of Patanjali
can be found in The Holy Science, by Swami Sri Yukteswar.
---
New Book from Self-Realization Fellowship:


THE SECOND COMING OF CHRIST
The Resurrection of the Christ Within You
A revelatory commentary on the original teachings of Jesus "In titling this work

The Second Coming of Christ,

I am not referring to a literal return of Jesus to earth....A thousand Christs sent to earth would not redeem its people unless they themselves become Christlike by purifying and expanding their individual consciousness to receive therein the second coming of the Christ Consciousness, as was manifested in Jesus....Contact with this Consciousness, experienced in the ever new joy of meditation, will be the real second coming of Christ — and it will take place right in the devotee's own consciousness."

—Paramahansa Yogananda


Another resource is at this link: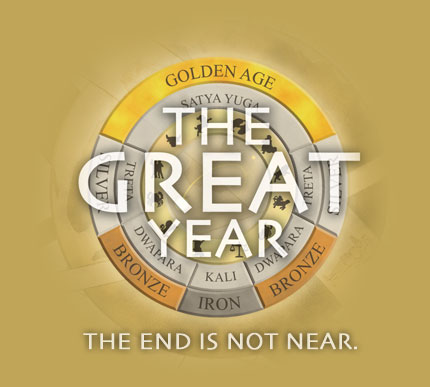 Go to TheGreatYearDVD.com or The GreatYear.com
---

Here is a picture of Jesus at the Water's Edge.